Updated 11:45 AM EDT, Thu September 29, 2022
Read our Public Utilities Fortnightly Special Report: "The Role of Undergrounding in Electricity System Resilience."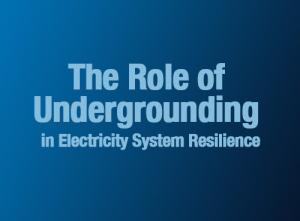 Principal Investigators Paul Kjellander and Steve Mitnick interviewed leaders and experts at Alliant Energy, Avista, Black Hills Energy, Dominion Energy, Eversource Energy, Florida Power & Light, Georgia Power, Idaho Power, NorthWestern Energy, PacifiCorp, Pacific Gas & Electric, WEC Energy Group. And at Electric Power Research Institute, Burns & McDonnell.
This thirty-page report summarized our findings and conclusions. Utilities are increasingly undergrounding. Innovation has decreased its costs. Increased its reliability. Extended service life.
Drill down on these developments in undergrounding.
Read this report by PUF Energy Research. See the report here. You may need to right-click on the link and save the pdf to your device.