Updated 1:33 PM EST, Fri January 14, 2022
It's crazy. There's literally nothing like this. Anywhere.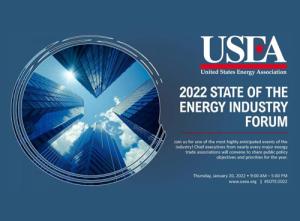 Three industry leaders per hour. Each speaking their mind for twenty minutes. One after another.
In the first hour, there's the CEOs of the Electric Power Research Institute, Nuclear Energy Institute, and American Petroleum Institute.
Next hour, without a break, there's the CEOs of the Edison Electric Institute, American Gas Association, and National Rural Electric Cooperative Association.
Kicking off the third hour, there's the CEO of the American Public Power Association. After that, there's industry association CEO after CEO. Such as the heads of the Gas Technology Institute and Large Public Power Council.
Talk about drinking from a fire hose. There's nothing like the Annual State of the Energy Industry Forum, the eighteenth annual by the United States Energy Association, to really understand where the industry stands. Short but sweet (as the great "Satchmo," Louis Armstrong, might say).
Watch it from the comfort of your socially distanced home office/kitchen table. For free. Next Thursday, the twentieth of January. Register at usea.org.