Updated 3:55 PM EDT, Wed July 29, 2020
From Database Utilities Fortnightly: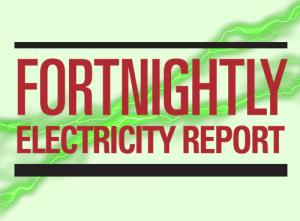 Across April and May of this year, continental U.S. electric sales were understandably down 6.2 percent from 2019, while much of the country self-quarantined. But the month of June actually saw a 0.7 percent increase in sales, year-over-year. Now, in the first three weeks of July, through Tuesday night, electric sales are back down 1.5 percent, year-over-year.
And, the grid is using more coal again. Coal plants produced 15.7 percent of the grid's generation across April and May, but that increased to 19.5 percent in June and now 22.5 percent in July. Meanwhile, the share of generation from zero-emission sources fell from 44.5 percent in April/May to 32.4 percent so far in July.
Calling all of this a return to normalcy would be a mischaracterization; however, electric sales and the grid are continuing to track more closely with the pre-pandemic period. As one reflection of our current state of affairs, these figures and their ebb and flow are worth keeping an eye on.