Updated 10:27 AM EDT, Fri April 23, 2021
Excerpted from Steve Mitnick's upcoming book "Women Leading Utilities, the Pioneers and Path to Today and Tomorrow:"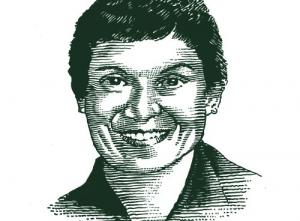 If you were reading the New York Times on May 23 of 1984, you would probably have been surprised by the headline of this article. "Woman Named to Lead New England Electric." It was truly a remarkable development for that time. Joan Toland Bok was the first woman by many years to become the Chair of a major utility in the U.S. In 1984 she was made the Chair of New England Electric System (now a part of National Grid US), a position she held until her retirement in 1998.
Bok very temporarily held the position of CEO as well, making her the first woman to have that title in the utilities industries, albeit for a few months only. CEO Samuel Huntington was killed in a lightning storm in July of 1988. The legendary John Rowe was selected by Bok and her Board of Directors to assume the CEO position that December.
Bok was born on the thirty-first of December in 1929, at the dawn of the Great Depression. She received her bachelor's degree from Radcliffe College twenty-two years later in 1951, and then her law degree four years later in 1955, from Harvard University.
Before joining NEES in 1968, she was an attorney with Ropes and Gray for her first six years out of law school and then had her own practice for the next seven years. She rose at the utility to become a vice president in 1977. This was three years before the first female U.S. Senator was elected in her own right (without following the footsteps of her father or husband) and four years before the first female Supreme Court Associate Justice was confirmed. In 1979, Bok was elevated to the position of Vice Chair.
At a time when having such an executive career was extremely rare for a woman, Bok brought up two children with her husband John Bok, who she married upon completing law school in 1955. In the next class at Harvard Law School, in 1956, future Supreme Court Justice Ruth Bader Ginsburg began her first year of classes there.