Updated 7:17 AM EDT, Sat April 22, 2017
February 14, 1929. The day of the St. Valentine's Day Massacre. Scarface Al Capone eliminated the rival Chicago gang of Bugs Moran.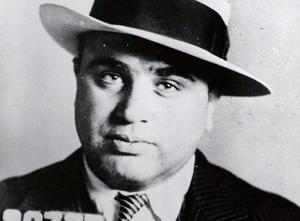 How did federal agent Eliot Ness and the Untouchables bring down Capone? It turns out the utilities industry, Sam Insull particularly, was the key.
Capone was feared by all. Chicago's mayor and the Illinois attorney general would or could do little. 
But Capone made the mistake of murdering a contractor superintendent. Chicago's Chamber of Commerce was outraged. And so the Secret Six was formed.
The Secret Six were courageous business leaders who knew they were endangering themselves and everyone around them. Decades later we've learned they included Sears Roebuck head Julius Rosenwald. 
And we've learned they included none other than Samuel Insull. Insull was the most prominent utility leader of the era. And arguably the father of utility regulation, the system we use to this day to restrain rates and attract capital.
The Secret Six hired the brother-in-law of federal agent Eliot Ness. Ness was soon immersed in taking down Capone. 
Rosenwald, Insull and the others set up the speakeasy Garage Café to gather information. They funded the decisive tax evasion case against Capone. And they paid to send an informant to safety in South America. 
The Secret Six eventually handled 595 cases, with 55 convictions, and 428 years of jail time. 
Al Capone later said: "The Secret Six has licked the rackets. They've licked me. They've made it so there's no money in the game."

Image By Pennsylvania Department of Corrections / FBI, via Wikimedia Commons