Deck:
Grand Time in Grand Rapids
The Mid America Regulatory Conference, perhaps better known as MARC, held its 2023 Annual Conference, Grand Vision: Past, Present, Future from August 6 - 9 in Grand Rapids, Michigan.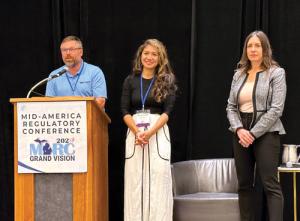 Held across the river from the Gerald R. Ford Presidential Museum, the MARC 2023 conference theme reflected the active era of federal energy policy.
With unprecedented federal investments through the Infrastructure Investment and Jobs Act, the Inflation Reduction Act, and the Rural Digital Opportunity Fund, the role of state utility regulation and regulators has never been more important in overseeing the electric grid, pipelines, water infrastructure, and other critical assets.
See photos at our Facebook gallery.

Lead image: The Michigan Commissioners hosted the MARC Conference, from left, MARC President and Michigan Chair Dan Scripps, Commissioner Alessandra Carreon, and Commissioner Katherine Peretick.