Author Bio:
Steve Mitnick is the Editor in Chief of Public Utilities Fortnightly. He has authored four books on the economics, history, and people of the utilities industries.
NARUC's Summer Policy Summit in late July took place in San Diego. There were so many engaging topics held on regulation in the public interest, that it is unlikely attendees found time to steal away to the many beckoning beaches.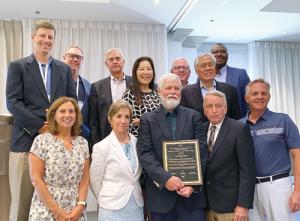 Nearly a thousand were in attendance. The conference was bookended by a general session on Monday morning featuring a vigorous discussion about the tensions between grid transformation and grid reliability; and a general session on Wednesday morning focused on the next generation of nuclear power.
See photos from the event at our Facebook gallery.

Lead image: At the NARUC Summer Policy Summit in San Diego, the Commissioners Emeritus, front row from left to right, Kim Pizzingrilli, Susan Clark, Paul Kjellander, Ed Salmon, Mike Huebsch, and back row from left to right, Glen Thomas, Rob Powelson, Richard Mroz, Lorraine Akiba, Bob Merrifield, Bob Gee, Ron Brise. Jay Balasbas was in attendance but not visible in this photo.