Author Bio:
Lori Burkhart is Editor-in-Chief of Public Utilities Fortnightly.
New Mexico's State Capitol is Santa Fe, the oldest in the U.S., founded in 1610 as the government seat of Nuevo México in New Spain. Fast forward a mere four hundred years and Santa Fe is home to the New Mexico Public Regulation Commission.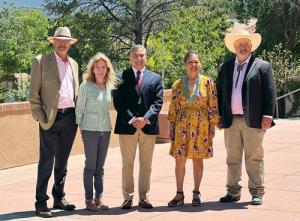 The PRC Commissioners and Staff are busy, tasked by the state legislature with implementation of the Energy Transition Act, calling for a phased transition to clean energy with goals of fifty percent renewables by 2030, eighty percent by 2040, and net zero for IOUs by 2045 and for co-ops by 2050.
The PRC also is involved in a plethora of rulemakings to address new or existing rules on community solar, grid modernization, interconnection, and integrated resource plans. Commissioners are enhancing the state's broadband services in rural communities and making clean energy accessible to those with lower incomes. If that wasn't enough regulating in the public interest, add in recently approved transportation electrification plans from the state's three IOUs, which are ongoing. 
There is much more too, in what is a race against time. For the five-member elected Commission at the end of 2022 will change to a three-member appointed one. The Commissioners said they want to leave it all better. Here, they tell you in their words about the coming changes and the status and future of the energy and utilities industry in the beautiful State of New Mexico.
 
New Mexico PRC articles: