Author Bio:
Lori Burkhart is Editor-in-Chief of Public Utilities Fortnightly.
The Sunshine State is iconic. Everyone knows where the famous peninsular State of Florida is on a map, and if they haven't been there, they want to visit, or if you're in the energy and utilities industry, are bound to stopover for a conference.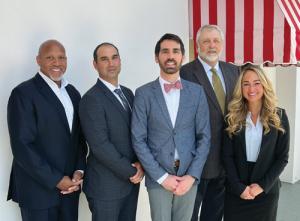 The PUF team was happy to leave the still chilly environs of Arlington, Virginia and visit Tallahassee at the end of March, for warm weather, and an even warmer welcome by the five Commissioners and Staff at the Florida Public Service Commission. Now ensconced in the modern Gerald Gunter building, when the PSC was formed as the Florida Railroad Commission in 1887, it was headquartered in the Historic Capitol Building until 1912, where the original Commissioner's bench is on display. 
The Florida Commissioners these days are busy, grappling with the tough subjects of utility ratemaking in the public interest, but also population growth and ensuring all those residents, old and new, have reliable utility services. Enjoy these conversations with Florida Chair Andrew Fay, and Commissioners Art Graham, Gary Clark, Mike LaRosa, and Gabriella Passidomo.