Author Bio:
Lori Burkhart is the editor-in-chief of Public Utilities Fortnightly.
The North Dakota Public Service Commission has its home within the State Capitol building, the tallest in Bismarck, at twenty-one stories. The PUF team landed there in August, missing by a day, temperatures well over one-hundred degrees. Everyone knows about North Dakota's thirty degrees below in February, but not that some of the highest summer temperatures in the nation often are recorded there too.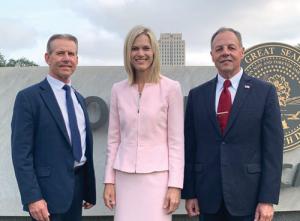 The State is energy rich, and many places in the nation would like to tap into that excess. North Dakota has long been a lignite coal producer and is the second largest producer of oil in the country. But it is graced with geology allowing for carbon capture and storage, recently permitted by the Commission. It's also a nation-leading producer of wind power in the Great Plains, making transmission of utmost importance, as the State sits within MISO and SPP.
Many issues need tending by the North Dakota Commission, only authorized for forty-three full-time employees, including the three Commissioners. This small but mighty Commission handles a lot. The Commission also is in charge of weights and measures, protecting consumers, by making sure they get what they pay for. That is a big job in this vast agricultural and ranching state, holding just over three-quarters of a million people.
Commissioners in North Dakota are elected and spend a lot of time traveling to hearings held among constituents for the serious business of regulating in the public interest. They also have time for fun, evidenced in the hearing room by the ongoing rivalry between the University of North Dakota and North Dakota State University. Listen in on the PUF team's visit.

North Dakota PSC conversations: